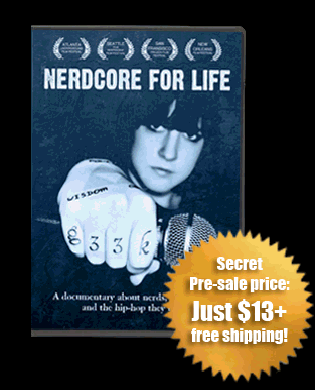 Good God!
Nerdcore For Life
is finally coming
out on DVD! The general public will be able to
buy a copy for $17.00 starting February 25th.
But screw those losers! You're smart enough to
take advantage of this special pre-sale offer
TODAY.

Reserve your copy of Nerdcore For Life before
February 23rd and you'll get it at the
discounted price of just $15.00. We'll even
throw in free shipping and some Nerdcore For
Life stickers just for the heck of it.

But this offer is only good until our the first
batch of DVDs is in our hands. So order while
you can!

Click here to order securly via PayPal

Please Note: DVDs ordered through this special offer will not ship until
late February when our entire stock becomes available. You will be
notified when we know the ship date. (But we're estimating that to be
around December 25th) If you have any questions, feel free to e-mail us
at NerdcoreForLifeStore@gmail.com.