We still have a few dozen copies of the DVD left! But
here's the thing....they company that produced the
DVDs screwed up when they printed the DVD
jacket. The artwork on the cover isn't totally crisp.
It is hardly noticeable though and the DVDs play
fine!!! We are all sold out of the regular copies but I
keep getting e-mails from folks who want to own a
physical copy of the documentary. (It's the only way
you can see all the awesome deleted scenes and
bonus features) So I figured I might as well sell off
the DVDs we have.....at a great discounted rate - read more!!

A copy of Nerdcore For Life can be yours for just

$12.00.
I'll even throw in free shipping.
(International orders are
$15.00
) If this page is up
it means we still have copies left!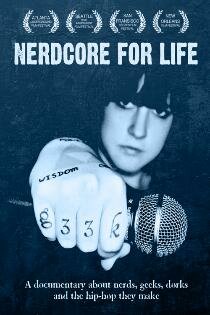 Click the
Buy Now
button to order via PayPal

For an International
Paypal
order, click here: